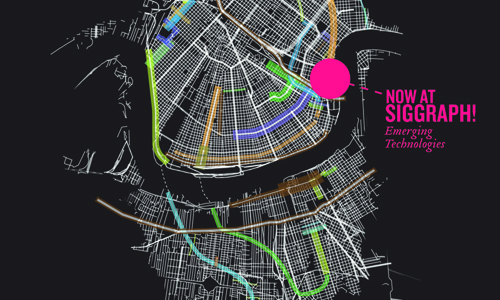 We have been officially invited to present the CityMurmur project at the Emerging Technologies conference at SIGGRAPH09. Citymumur NewOrleans will be launch on the 3rd of August on the occasion of the first day of the conference.
For those who have never heard anything about the SIGGRAPH (short for Special Interest Group on GRAPHics and Interactive Techniques), here is a short description: now in its 36th year, the SIGGRAPH conference is the premier international event on computer graphics and interactive techniques. SIGGRAPH 2009 is expected to draw an estimated 25,000 professionals from five continents to New Orleans, Louisiana. The SIGGRAPH conference attracts the most respected technical and creative people from all over planet Earth. The SIGGRAPH community includes people everywhere who are excited by research, science, art, animation, gaming, interactivity, education, and the web. The SIGGRAPH conference and exhibition is a five-day interdisciplinary educational experience including a three-day commercial exhibition that attracts hundreds of exhibitors from around the world. SIGGRAPH is widely recognized as the most prestigious forum for the publication of computer graphics research. In addition to SIGGRAPH's leading-edge technical program, the conference's installations provide close-up views of the latest in digital art, emerging technologies, and hands-on opportunities for creative collaboration.
But what people told me about it? The first time I heard about SIGGRAPH was described as the Woodstock of computer graphics and interactive techniques and I thought about half naked people interacting with muddy computers; then someone said it was the dream of lot of digital kids, where everything is possible and everything is future and in that Woodstock vision I added genius little kids playing with futuristic devices; then I heard there were someone giving relief massages to people over working on computers and this idea completed the picture with awesome transhuman masseuses.
Maybe this vision is a little too much, but I don't care and to free myself from fears I booked a room in a very nice hotel with a swimming pool on the roof, to keep on feeling on top of the world!
We keep you updated on this adventure, be back about CityMurmur New Orleans soon.