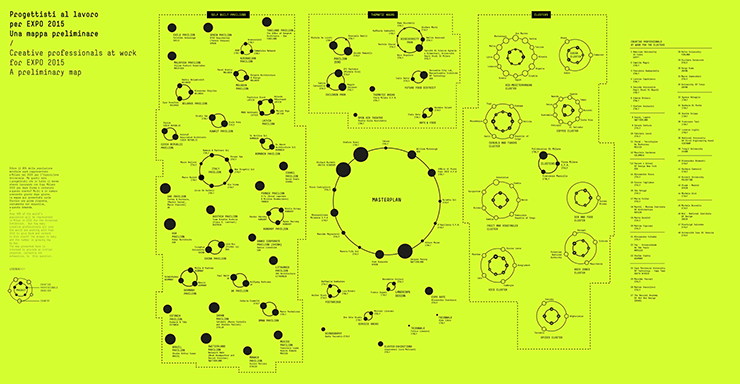 Over 90% of the world's population will be represented in Milan in 2015 for the Universal Exhibition. But how many creative professionals all over the world are working with Expo 2015 to give form and content to this event? The answer is many and the number is growing day by day.
The map we created for the exhibition Innesti/Grafting curated by Cino Zucchi and with the visual identity by StudioFM, is intended to provide an initial response, certainly not exhaustive, to this question.
The visualization, that you can find printed on a 6 by 3 meters panel inside the section of the Italian Pavilion dedicated to Milan and the EXPO2015, represents all the architectural and design projects that will be realized for the EXPO2015 and all the creative professionals and countries involved, weighted on their importance and involvement in the project.
The visualization, based on data provide by EXPO2015 S.p.A., has been created with Nodebox3, an open-source tool ideal for rapid data visualization and generative design.
Check out the high resolution version of the visualization here.
Photo's courtesy of Roberto Galasso.